ED MATIC is able to provide its customers with plastic cards with all existing technologies:
magnetic strip
contact chip
contactless RFID
cards mixed with multiple technologies integrated on the same support
PLASTIC CARDS NEUTRAL AND WITH MAGNETIC BAND OR CHIP
By standard plastic cards we mean the normal PVC cards with dimensions ISO 86 × 54 mm, with a thickness ranging from 0.4 mm to 1.00 mm, the most used have a thickness of 0.76 mm.
Plastic cards can be neutral, that is, without any data that is not printed, or store data inside a magnetic stripe, external chip or internal contactless chip.
Neutral plastic cards with magnetic stripe can be of 2 types:
magnetic stripe LO.CO. (300 Oe)
magnetic stripe HI.CO. (2750 Oe – 4000 Oe)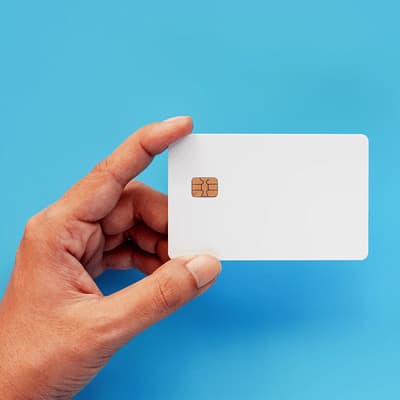 Cards with contact chips, more commonly known as Smart Card Contact, have a chip that is activated and communicates with the outside only when the card is inserted into a special terminal device called a smart card reader. The chip does not work when it is near the reader, but when it is inserted inside the reader.
Contact chip cards are mainly used for ATMs, digital signatures and other services for which different technologies would not be suitable.
FM 4442 / FM 5542
FM 4428 / FM 5528
TECNOLOGY RFID (RADIO FREQUENCY IDENTIFICATION)
Contactless cards have RFID (Radio Frequency IDentification) technology, which is a radio frequency data transmission method which therefore does not require contact between the card and the reader.
125 Khz frequency is also referred to as low frequency. Transmission takes place in high security as the reading and writing devices must know the access key in order to access the data contained in the card chip.
Without the reading key (such as a password), the card is inviolable.
The EM4102 RFID cards, 125 KHZ READ ONLY contactless plastic cards, have an excellent quality / price ratio. Each EM4102 card has a unique serial number. They are an excellent solution for access control and attendance control that do not include a very high degree of security.
RFID contactless cards – T5567
T5567 cards are RFID 125 Khz with read and write processor. They have 330-bit EEPROM (10 blocks, 33bits each). The T5567 proximity cards are an excellent solution for hotel keys, time and attendance control and access control. Their peculiarity is that the unique serial number can be changed at will (very useful to replace existing systems with magnetic stripe or barcode)
Mifare® cards are widely considered the market leaders of ISO14443A technology. Mifare® 1K ISO are used in security RFID applications, they contain 1KByte of EEPROM divided into 16 sectors. The Mifare® 1K proximity cards are excellent for: E-tickets, payments, hotel keys, access control and presence control systems. They are used in particular in transport, hotels, public administrations and access to events. They are often used for their security, in fact they have two Keys (A and B) that protect access and writing, and for their flexibility: they are made up of 16 memory sectors, each of which can be used for a different application (example: block 1 for loading points, block 2 for crediting photocopies, block 3 for access to gates, etc.) and can be protected with different keys. This type of card can also be supplied in a version compatible with a memory of 1K and 4K.
All products can be supplied both
neutral

and

customized

through massive offset or digital printing and printing suitable for smaller volumes in thermography or retransfer depending on the needs and the type of paper.